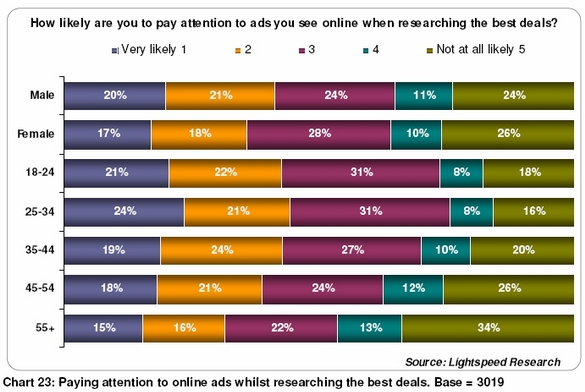 Een onderzoek verricht door het IAB (Internet Advertising Bureau) en Lightspeed Research onthult dat consumenten 's-avonds en later op de avond meer ontvankelijk zijn voor online advertenties. Het onderzoek is verricht onder Engelse consumenten. Uit het onderzoek blijkt verder dat er verschillen zijn tussen verschillende leeftijdsgroepen. 
"Knowing when surfers are more receptive to advertising messages allows marketers to target their campaigns more closely and get the most from their online advertising budget," aldus David Day, Lightspeed Research chief executive voor Europa. "With so many different activities being carried out by the online population, knowing when to get your message across can be the difference between success or failure for an online campaign."
Uit het onderzoek bleek dat aan het begin van de avond er geen onderscheid te vinden is in leeftijdsgroepen. Zo bleek verder dat voor de jongere respondenten de ontvankelijkheid toenam naarmate het later wordt op de dag. De oudere leeftijdsgroepen piekten tussen 1400-1800 uur en tussen 2100-2400 uur.
Het onderzoek is verricht onder 5022 respondenten in de periode tussen 28 november en 8 december 2008.
Meer informatie over dit onderzoek is hier te vinden.