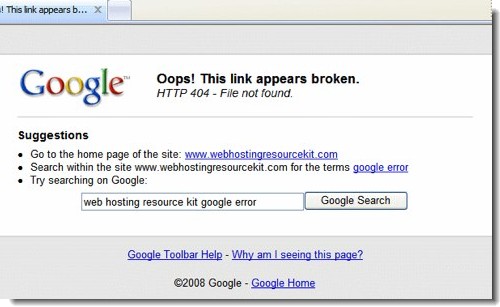 Het lijkt erop dat de laatste betaversie van de Google Toolbar een vervangende 404-pagina laat zien. Een 404-pagina is een zogenaamd File-not-Found error pagina, die vaak door website eigenaren netjes wordt opgemaakt in de eigen huisstijl. Zoals de visual laat zien, blijft daar echter weinig van over.
Op dit moment is het niet geheel zeker of deze overname van de 404-pagina plaatsvindt in alle gevallen, of alleen op sites waar er geen specifieke 404-pagina aanwezig is. De Google Toolbar 404 pagina geeft een aantal hints wat je verder kunt doen gecombineerd met een Google zoekpagina.
Het lijkt mij iets dat rechtstreeks indruist tegen een van de richtlijnen van de Google filosofie "
You can make money without doing evil".