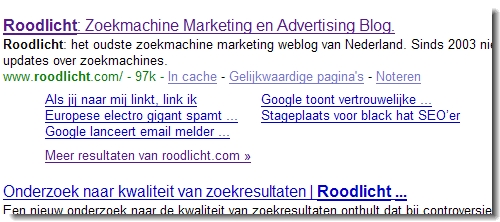 Een grootschalige update bezorgt een meer dan ooit groter aantal sites met zogenaamde sitelinks. Deze sitelinks zijn maximaal 8 hyperlinks die onder de vermelding in de Google zoekresultaten staan.
Sitelinks zijn links die bezoekers helpen beter te navigeren over de specifieke website.  Het proces van Sitelinks is volledig geautomatiseerd. Je krijgt deze links op de onderstaande manier:
We only show sitelinks for results when we think they'll be useful to the user. If the structure of your site doesn't allow our algorithms to find good sitelinks, or we don't think that the sitelinks for your site are relevant for the user's query, we won't show them.
In de toekomst wil Google het ook mogelijk maken dat webmasters invloed kunnen uitoefenen op de weergegeven links. De geselecteerde sitelinks kun je momenteel per stuk blokkeren. Dit doe je via de Google  Webmaster Tools. In het menu aan de linkerkant zie je staan Links, en daar zie je een kopje Sitelinks.