In mijn presentaties over de 'cookiewet' betoogde ik altijd dat ik het nog maar moest zien of de grote internationale spelers als Google en anderen zich zouden conformeren aan de 'cookiewetgeving'. En wat blijkt, Google past deze nu toe.

In zoverre, Google gaat ervan uit dat de Nederlandse wet zo gewijzigd gaat worden dat een melding volstaat. Daarmee voldoet Google aan de informatieplicht. Er is verder geen mogelijkheid om de cookies van Google via de website van Google te blokkeren.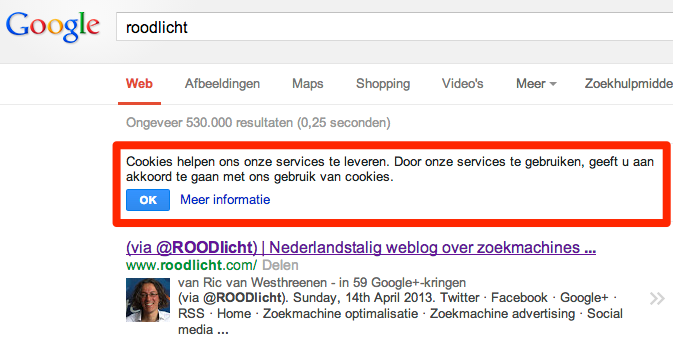 Op de homepage van Google staat de vermelding onderaan geplaatst. Opvallend genoeg, is de vermelding niet aanwezig als je in Chrome incognito browsed, Google plaatst dan geen cookies of trackers. Dat is niet het geval in Firefox, daar is in de private browsing versie wel de melding aanwezig, en worden ook cookies geplaatst.