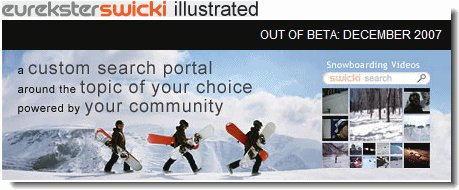 De social search engine Eurekster Swicki is uit beta. Eurekster is, zoals zij het noemen:
a custom search portal around the topic of your choice powered by your community
En met de Swicki functionaliteit kan iedereen zijn eigen social search portal opzetten. Inmiddels zijn er al ruim 100.000 van dit soort social portals opgezet. En mocht deze term niet duidelijk zijn, wat dacht je dan van verticals: specifieke zoekmachines rondom 1 thema. Dat is wat je met Eurekster Swicki kunt doen.